Survey: Socialists Are Overwhelmingly Unemployed Young Men Who Support Political Violence
The /r/socialism subreddit conducted a survey of its subscribers and the results were horrifyingly unsurprising.
The vast majority of redditors from /r/socialism are young, white boys. Less than 5% of them are over the age of 30 and just over 8% of them are women and only 16.6% of them identified as a person of color.
What should be even less of a surprise is that a whopping 39.2% of them are unemployed students. Nearly 9% of the socialists are unemployed and not even going to school. Just about 35% of them claim to have some form of employment.
While 56% of the redditors claim they are in school, only 19% of them have actually obtained their bachelors degrees.
Over 10% of them say they have completed some school but aren't going anymore.
If you think the socialists are only lazy when it comes to finding a job you'd be mistaken. Even though these redditors are the more politically "woke" types, they don't really get involved in parties or political organizations. Over 53% "plan" to join a political party or organization but haven't while 13% say they will never get involved.
The survey also asked socialist redittors who weren't involved in politics why they weren't involved and the answers are hilariously ironic.
Over 63% of them claimed that there are no organizations in their area – good job Democrats! 51.3% of them claim they have no time, even though a majority of them are unemployed students.
Finally, over 25% of the socialists apparently don't have a car that could even take them anywhere to be politically active.
The thing that should really scare people about this survey, though, is the fact that nearly a quarter of them believe in seizing state power through revolution.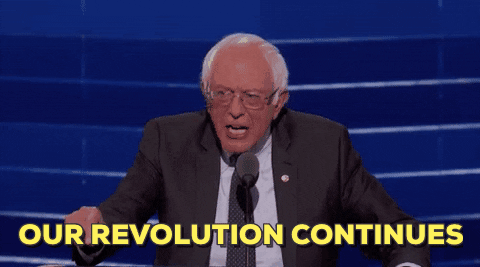 We're lucky that these guys are lazy and unemployed because 24.5% of them think Socialists should "seize state power through revolution" and another 12.6% think they should have a revolution to abolish the state altogether.
Ideologically, over 60% of reddit Socialists believe in harsher gun control and 48.5% of them think they should use "all tools at their disposal" to fight fascism. 65.9% of them actually think market economies are "innately harmful" too. 71.4% of the socialists who responded were also atheist.
17.4% of them actually believe that fascists need to be "fought directly on the streets."
36.2% say they "support and encourage rioting in some situations."
Another 26.6% say they "empathize with" and "support rioters" but do not "expressively encourage" violence. 9.9% of those that responded to the survey think that rioting and violence should be acceptable in any and all situations.
61% of the socialists actually live at home with their parents.
Don't worry about them doing anything politically productive anytime soon though; they struggle to pull the trigger when it comes to political organizing.
Socialists want a "revolution" to bring about Socialism.
Reddit Socialists support overwhelmingly support violence.
Sources:
Reddit
Google Docs
Leftist Hero Valerie Plame-Wilson Apologizes For Promoting Article Blaming Jews For America's Problems
Earlier today, obscure left-wing starlet, Valerie Plame-Wilson, retweeted a bizarre anti-semitic article from Philip Giraldi at UNZ.com, which suggested that Jewish media personalities should be identified whenever they are making comments on TV — like a warning label on a bottle of rat poison — so that the public can be aware of their dangerous ulterior motives of promoting Zionism.
In case you're suffering from "Gosh-that-name-sounds-familiar" syndrome let's review a bit about Mrs. Plame-Wilson.
Valerie Plame-Wilson was once a relatively unremarkable CIA analyst who had been thrust into Left-wing stardom after her cover was blown by a Washington Post article by Robert Novak in 2004. The Left quickly blamed the Bush Administration for leaking her name as retribution for her husband, Joe Wilson's, New York Times op ed piece in which he claimed to have debunked Bush's assertion that Iraq had been seeking "yellow-cake" uranium from Niger and therefore the whole Iraq war was based on a lie.
Of course Joe Wilson's story was later itself debunked as Bush had based his statement on British intelligence (which the British still stand by). But in the aftermath, Plame-Wilson and her husband found fame and fortune and lucrative book deals and movies.
These days, Plame-Wilson is desperately trying to keep herself relevant. She has a website and a Twitter account in which she loves to opine on any number of left-wing causes.
Which brings us to her current fifteen minutes of fame.
When she was quickly criticized for today's tweet, she defended it by tweeting that "re-tweeting doesn't mean endorsement."
She then tweeted a few more tweets defending the basic argument of the article itself: that wealthy and well-connected American Jews are pushing political policies that will get the U.S. into a War with Iran.
"Put aside your biases and think clearly," she lectured in one tweet.
put aside your biases and think clearly. https://t.co/dHsVF8ZCH6

— Valerie Plame Wilson (@ValeriePlame) September 21, 2017
But then reality set in and two hours later, she tweeted an apology, saying she had "missed the gross undercurrents to this article" and didn't do her "homework on the platform this piece came from."
I missed gross undercurrents to this article & didn't do my homework on the platform this piece came from. Now that I see it, it's obvious.

— Valerie Plame Wilson (@ValeriePlame) September 21, 2017
She also tweeted that there was "so much there that's problematic" (in the UNZ article) and that her mistake was "a doozy" and that she had merely "skimmed" the article and "zeroed in on the neocon criticism and shared it without seeing and considering the rest."
Apologies all. There is so much there that's problematic AF and I should have recognized it sooner. Thank you for pushing me to look again.

— Valerie Plame Wilson (@ValeriePlame) September 21, 2017
But the Washington Examiner points out that Plame's claim to have been unfamiliar with the platform of the article—that is UNZ.com—seems a little disingenuous since she has re-tweeted several articles from them over the past few years.
Articles, for example, about Israelis dancing for joy on 9/11 and articles titled "Why I Still Dislike Israel."
She must have missed the undercurrents on those articles as well.
If this is the quality of research and discernment Mrs. Plame-Wilson is only capable of, we should all thank God that she's no longer working in the CIA.
Sources:
UNZ
The Washington Examiner
Bombshell: Imran Awan Allegedly Threatened, Abused At Least 3 Women
In an article posted by The Daily Caller yesterday, the news site linked to Fairfax County Police reports obtained under Virginia's freedom of information act. The reports indicate a number of disturbing details about Imran Awan, the recently indicted former IT aid for Rep. Debbie Wasserman Schultz.
At least three woman are officially are listed in the reports as having alleged physical abuse by Awan. The first alleged victim stated "I just wanted to leave."
The second indicated she felt like a "slave."
"The third woman is Awan's stepmother, Samina Gilani, who said in court documents that Awan invoked his authority as a congressional employee to intimidate immigrant women, in part by telling them he had the power to have people kidnapped," The Daily Caller reports.
Here is the investigation report from the FCPD. The Daily Caller continued "Neither of the other two women who complained are married to Awan, though both were apparently in relationships with him. Awan's wife, Hina Alvi, worked as an IT aide for dozens of members of Congress, including Wasserman Schultz. The two women who called the police both lived in the same Alexandria, Va., complex but in different apartments for which Imran paid."
The second reported incident took place in July of 2016.
This report has the victim listed as a female named Samara Sidique. In the narrative the responding investigator stated that Ms. Sidique reported that she felt "like a slave to this man."
Sidique also requested information on how to obtain a restraining order against Awan.
Police had responded to altercations between Sidique and Awan reportedly three times in less than 12 months, once finding "small cut[s] on stomach and arm."
The third incident was reported in this court document and congruent third police report filed in April of 2017 Gilani Samina,
"Imran Awan showed up and threatened me for calling the police. Mr. Shahid Imran Awan threatened that he is very powerful and if I ever call the police [he] will do harm to me and my family members back in Pakistan and one of my cousins here in Baltimore."
Given the current legal trouble for Imran Awan and the scandals within the DNC, the situation doesn't look good at all for Rep. Debbie Wasserman Schultz.
Source:
The Daily Caller
Report: Israel's Wall Is 100% Effective At Keeping Away Outsiders
President Trump has often used Israel as an example of how effective a border wall can be at keeping illegal aliens out of a country. He now has some hard data to help support that claim.
Israel's Population and Immigration Authority released a report on Sunday, showing their southern wall to have been 100 percent effective at preventing infiltration over the last 12 months.
However, there are some notable differences between Israel and the U.S. project.
Length:
Israel's southern wall is only 143 miles in length where the U.S. southern border spans 2000 miles and four states.
Cost:
The Wall Street Journal pegged the cost of Israel's wall at $416 million or $2.7 million per mile. The U.S. wall would be considerably more expensive.
Geography:
Israel's southern border is mostly open desert and easy to monitor. The U.S. border runs through some remote and rugged terrain, and contains several towns situated right along it. It would also require additional technology like sensors, drones and robots to help monitor.
Still, in 2015, only 220 illegal migrants managed to infiltrate Israel's border with Egypt and only 18 were successful in 2016.
So it appears a wall—if properly done—can prove to be highly effective at controlling unwanted crossings.
A country also needs the political will power to enforce its immigration laws.
According to the report, over the last 12 months Israel deported 2,431 people who infiltrated the border illegally, including 2,245 Eritreans and 186 Sudanese.
Last month, Israel's Supreme Court ruled that the state may deport illegal migrants to a third country with consent, but added that the government cannot detain those who refuse to go for more than 60 days.
Furthermore, according to the African Refugee Development Center, some 46,437 Africans have sought asylum in Israel. The majority (73 percent) are from Eritrea, and around 19% are from Sudan. Israeli authorities maintain that there are 40,000 illegal migrants in Israel, most of whom are economic illegal immigrants and not refugees seeking sanctuary
Sources:
Israel Hayom
Politifact
Wall Street Journal