RACE BAITING: HuffPost Calls White Athletes Standing For Anthem "White Supremacy"
A particularly opinionated HuffPost article decries white athletes standing to the national anthem as standing for 'White Supremacy.'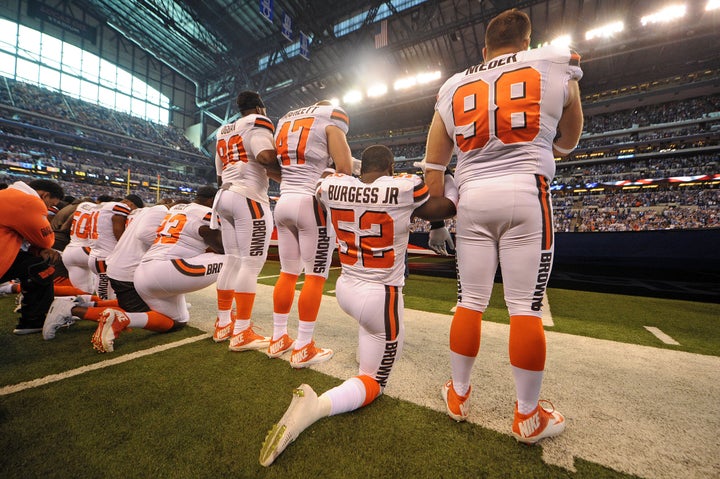 Contributor Jesse Benn believes, "The absence of white athletes kneeling for the anthem Sunday was a particularly illustrative moment in white privilege." Now just what white privilege Ben is talking about is left unknown, and comes off more as a white apologists' self-righteous guilt. But let's see if he has a point!
Benn writes, "See, for white athletes the anthem and American flag do represent freedom, liberty and whatever other amorphous American values one might ascribe these symbols. So, from their view, kneeling would be disrespectful to the privileges a white supremacist nation affords them."
Exactly what privileges this "white supremacist" nation affords these white athletes is left unclear from Benn. In a blatantly discriminatory tirade against whites, Benn seems to believe that there are no black athletes that believe in the same values and respect the symbol of America.
The tedium of knee-taking has taken a rise in ratings after Colin Kaepernick's self-indulgent mockery of American patriots, becoming a favored method of protest by unpatriotic social justice activists in the sporting field.
Ben goes on to say, "If white athletes can't fathom kneeling because they feel soldiers fought for their rights and blah blah blah patriotism, it's because they are treated as full citizens and afforded those rights they imagine soldiers fought for."
Aside from further condemnation for whites, Ben seems to perpetuate that an African American is not treated as an equal citizen with equal rights in this day and age. Such an odd idea is all but implausible when you consider that POTUS 44 was indeed an African American, elected by the people. If an African American can become President, he can become anything.
Interestingly, Ben strays from his label as an opinionated writer and appeals to statistics… all the while ignoring that the poorest counties of the US are predominantly white. Naturally, this would go against his narrative, so sweeping it under the rug is a must.
Perhaps Benn's most poignant (or at least an attempt at being poignant) statement: "As long as black people are killed by cops in the streets or left to wither away in the state's cages without recourse, that anthem and flag represent promises unfulfilled for millions of Americans."
Along with many other self-righteous pundits, Benn seems to focus on isolated examples of corrupt authority, and ignores a much bigger statistic that holds true: Black-on-Black crime being far more widespread. Aside from losing the chance to express his bigotry for whites, acknowledging a much bigger, present issue would remove Jesse Benn's moral superiority by having the gall to think African Americans need – or even want – his help.
In closing, Benn boldly states, "So let's at least be clear that what those players stood for on Sunday was white supremacy. Full stop."
Now back in the realm of unbiased reality, what's clear is that those players stood for the values of the country they live in. Full stop.
Trump Agrees To Release Hidden JFK Files: MSM Was Wrong Again.
I have a question. Are the American people entitled to a more transparent version of history? After all, historical events play a massive roll in establishing future political outcomes, sentiment, and direction. So by that accord wouldn't more information be better than less, in regards to making more informed decisions? Are the American people entitled to know the truth when it comes to their own country's history?
This question is certainly applicable to the current political questions being raised about the release of a potential trove of government documents on the JFK assassination. Will we be left with more questions than answers regarding the events that took place on that fateful day in Dallas on November 22nd, 1963? Well, Trump set the speculation to rest when he posted this tweet earlier today.
Subject to the receipt of further information, I will be allowing, as President, the long blocked and classified JFK FILES to be opened.

— Donald J. Trump (@realDonaldTrump) October 21, 2017
The MSM's spin on the topic has been quite visible. Articles filled with wild speculations and anti-Trump rhetoric began circulating around the web. Some saying that if President Trump agreed to let the files become public that pandemonium would ensue. Other articles claiming that it would refuel "conspiracy theorists."
According to Newsweek, "More than 3,000 never-before-seen documents from the FBI, CIA, and Justice Department are set to be released, along with 30,000 that have only been partially released in the past.
The document dump "will simply fuel a new generation of conspiracy theories," write Philip Shenon and Larry J. Sabato." Newsweek continued, "The Archives will release the documents between now and the Oct. 26 deadline, but doing so could be chaotic."
One wildly popular media personality seemed to call Trump's decision before it had been formally announced. Alex Jones of Infowars.com was ont of the few to seem confident about the release of the documents as was evident in this tweet.
.@POTUS is expected to declassify documents relating to the JFK assassination which may debunk the official story! https://t.co/KElyL2Yf6Q 😎

— Alex Jones (@RealAlexJones) October 20, 2017
Politico reported, "Trump, no stranger to conspiracy theories, including totally unsubstantiated theories about a link between Ted Cruz's father and JFK's death." They continued, "s it stands now, the document release this month will be a logistical nightmare, with the public suddenly flooded with a huge online library of documents—tens of thousands in total—that will be, at first, mostly incomprehensible even to experienced students of the assassination."
Politico also writes, "With everything made public at once, pandemonium is all but guaranteed, since major news organizations around the world will want to know, almost instantly, what is in the documents that is new and potentially important. And there will simply be no way for historians and other researchers, even those with a special knowledge of the Kennedy assassination, to make any authoritative judgment as they try to page through tens of thousands of pages of files all at once."
So amid the debate on whether or not these documents should be released, we have to ask ourselves, who benefits? Why does the MSM seem to be so slanted on this topic? Would the American people benefit from learning the truth about the JFK assassination? Is the truth something that unites the American people? Draw your own conclusion but I am of the opinion that not only are we owed the truth, we deserve it.
Massive Child Predator Arrests Made Across Nation. MSM Remains Silent
October 18th was a victorious day for law enforcement as they successfully carried out massive sting operations and arrest sweeps in three states. They were able to arrest 421 suspected sexual predators. These included arrests for child sex trafficking. These arrests were initially reported by three local outlets.
The Clarion-Ledger out of Mississippi reported, "two alleged child sex traffickers in Mississippi along with 20 individuals identified as associated with prostitution were among those nabbed in a nationwide crackdown that led to the recovery of 84 minors, the youngest 3 months old.
USNews reported out of Florida, "law enforcement in Polk County, Florida arrested 277 people in connection with human trafficking and online prostitution. A cancer surgeon, a teacher, a pediatrician, an Air Force veteran, a retired police officer and a colonel in the Marine Corps were among the nearly 300 people arrested in Florida in a massive prostitution sting, police say."
The media said this wasn't real. That it was a conspiracy theory. https://t.co/aOBDLyJCSD

— Mike Cernovich 🇺🇸 (@Cernovich) October 19, 2017
The undercover human trafficking operation, which was called "Operation No Tricks, No Treats" and ran from Oct. 10-15, netted 277 people, according to a press release from the Polk County Sheriff's Office."
In Georgia AJC.com reported, "sixty people were arrested and four children were recovered in Georgia during an FBI-led operation that focused on child sex trafficking, the agency announced Wednesday morning."
Here at Cernovich.com we are happy to see law enforcement cracking down on child sex traffickers and support any organization shining a light on this dark but important topic. Only by exposing the issue to the American public can we combat these disgusting predators effectively.
I do have one question though. Where is the mainstream media? This was a huge multi-state, multi-agency operation and the only sound we hear from the MSM is silent. I guess the well being of children falls short on their list of newsworthy priorities.
Sources: The Clarion-Ledger
The Clarion-Ledger
USNews
AJC.com
Proud Male Feminist & MSM Journalist Hit With Sex Assault Accusations… One Year After Mike Predicted His Downfall
Mike Cernovich has done it again. It seems that the author, filmmaker, journalist, and social media savant has successfully pointed out an accused sexual predator over a year before allegations became public of the accused pervert.
The person in question is one Rupert Myers, British GQ's former political correspondent. He was terminated from his employment after allegations of sexual misconduct surfaced.
A recent Breitbart article on Myers reads, "the liberal journalist has written at length against U.S. President Donald Trump, Brexit, and a host of other folk devils of the left, and even penned a lengthy article condemning the objectification of women, commenting sagely that "it is impossible to ignore the disparity between my experience and those of women who have suffered the inhibiting attentions of men treating women as objects."
.@RupertMyers Which of the 5 women who say you sexually assaulted them should Milo interview first?

— Mike Cernovich 🇺🇸 (@Cernovich) September 1, 2016
Cernovich called Myers out on Twitter on September 1st, 2016 – over one year before the official allegations surfaced. His accuser, author and journalist Kate Leaver made many public comments on the subject today on her Twitter account.
Over a year ago. https://t.co/0EUr3GiTJP

— Mike Cernovich 🇺🇸 (@Cernovich) October 19, 2017
Twitter users quickly took Myers to task for his alleged actions and previous statements he had made on Twitter.
R*pert M*yers: a dude who @'d every girl I knew on Twitter from 2010-2013 asking them to follow him, then DMd them asking them on a date…

— 🍑 Vanessa 🍑 (@sarcastathon) June 14, 2017
Also this.. pic.twitter.com/w4Wdmerbtg

— Thomas Colson (@tpgcolson) October 19, 2017
Myers has been terminated from his post and accepted responsibility for his predatory behavior publicly on his Twitter. Myer has since deleted his twitter account. I am left to question whether he was advised to do so by legal representation. It is unclear as of yet if Myers will be facing any charges stemming from the alleged incidents.
British GQ has sacked political correspondent Rupert Myers after "allegations" were raised. pic.twitter.com/JMrcxX2cKO

— Mark Di Stefano 🤙🏻 (@MarkDiStef) October 19, 2017
One of the alleged victims has since commented on Myers termination and his "apology. " Needless to say she seems dissatisfied by the very generic apology statement.
One is left wondering. How does Mike Cernovich always seem to end up ahead of breaking stories? The left likes to label him an internet troll, but why didn't the media report on the accusations against Myers a year ago? Perhaps they have just completely given up on investigative journalism. Or maybe Mike Cernovich does have the most amazing sources in media today.My money is on both.
For breaking news subscribe to cernovich.com. You can also follow Mike Cernovich @cernovich on twitter.
Source: Breitbart